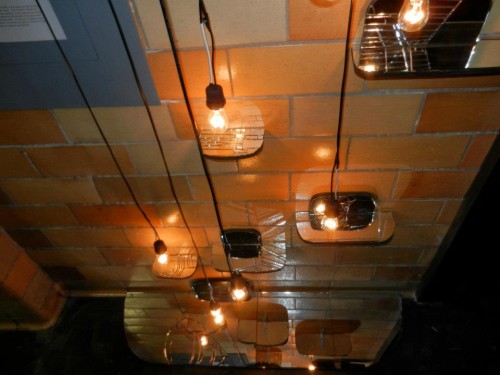 I Will Build You a Hearth
March, 2013, in collaboration with mosaic artist Kate Jessup, I co-installed a piece titled I Will Build You a Hearth, as a part of a contemporary mosaic exhibition titled, TRANSPOSITION.
For this piece, Ms. Jessup and I chose a tiled wall of the Immigration and Naturalization Building in downtown Seattle to create a hearth, which was lit and warmed by low voltage, incandescent bulbs and made to reflect and refract light through the use of mirrored mosaic pieces that slowly climb up the wall of our imagined "hearth".   The piece references the long, often lost and unaccounted for incarcerations that many immigrants faced in the building during the decades that it served as an immigration detention center.  Considering the extended years that many detainees spent in the space, we aimed to reference the need for a home, and the austere lack of one, that existed for so long within the walls.  A retroactive gesture, so to speak, to those who had endured a double exile, while awaiting a fate unknown.
The exhibition as a whole was a site-responsive exhibition that showcased the work of fifteen artists from the Americas whose work is grounded in the mosaic medium. The show was held at Inscape, the arts and culture enclave occupying Seattle's former Immigration and Naturalization Services (INS) building.
Given the familiar metaphor of humanity as a mosaic, the medium's ancient and contemporary associations, and the building's former and current functions, the invited artists created and exhibited work that responds to the concept of "transposition", broadly imagined.