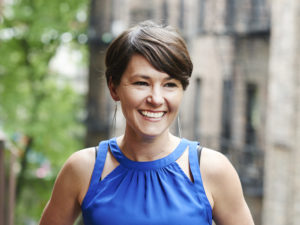 Monika Proffitt is an entrepreneur, speaker and writer and artist working at the nexus of financial technology, real estate and cultural impact. She is the Founder of Rise Housing, a social impact company that creates home ownership opportunities for tenants while securing above market returns for investors.
In 2011, she founded Starry Night Programs, which offers a creative retreat center in New Mexico, business training programs for visual artists, and art exhibitions at Art Basel Miami, Frieze New York, and the Venice Biennale. Though this organization she has brought over a million dollars in revenue to the economically depressed, rural area of Sierra County, New Mexico, while working with thousands of artists, galleries, and arts organizations worldwide.
Proffitt has spoken at numerous universities and organizations in the US and abroad about the role of the arts in economic stability, sustainable business and social impact, as well as the value of cultural capital in the appreciation of urban and rural real estate.
She once went undercover as a homeless person for two months to report on the state of homeless services in eight cities in the US.
She currently lives in New York City.
Professional Experience
2017 Founder, Rise Housing, New York, NY
2011 Founder, Estrella Arts, Seattle, WA
2010 Founding Executive Director, Starry Night Residency Program, Truth or Consequences, NM
2010 Downtown Storefront Installations Jury Panelist, Shunpike and 4Culture, Seattle, WA
2009 Owner and General Contractor, The Living Room, Seattle, WA
2009 Art Director to the film, "Brain Cave", Truth or Consequences, NM
2009 Neighborhood & Community Arts Jury Panelist, Mayor's Office of the Arts, Seattle, WA
2008 Neighborhood & Community Arts Jury Panelist, Mayor's Office of the Arts, Seattle, WA
2008 City Artist Awards Jury Panelist, Mayor's Office of the Arts, Seattle, WA
2007 Director of Programs, Art Patch, Seattle, WA
2007 Special Projects Jury Panelist, 4Culture, Seattle, WA
2007 Lighting Designer, Art Attack, Seattle Art Museum, Seattle, WA
2006 Artist Selection Jury Panelist, Northwest Artist Registry
2006 Curator, "Off the Pavement", Benham Gallery
2005 Project Manager and Curator, Capitol Hill Arts Center, Seattle, WA
2005 Assistant to Larry Calkins, Tacoma Museum of Glass, Tacoma WA
Publications and Speaking Engagements
2017 Smiling Through the Storm, Nikkei, Tokyo, Japan, Feb
2017 Shining Light on the Mysteries of Mortgages, Medium, New York, NY, Aug
2015 The Best Year Ever Workbook, Truth or Consequences, NM
2015 Texas Association of Schools of Art, Presentation Panelist
2013 Miami Art Basel, Weekend Recap, Vogue Italia, December 9
2011 The Herald, Cover, Truth or Consequences, NM, June 22nd
2011 The Herald, "Grand Opening," Truth or Consequences, NM, Mar. 16th
2011 Spaceworks Tacoma, "A Subtle Presence of Light," Tacoma WA, Jan 8th
2010 The News Tribune, Critics Choice, Tacoma, WA, Dec, 24th
2010 Weekly Volcano, "Five things To Do Today," Tacoma, Wa, Dec. 24th
2010 Spaceworks Tacoma, "Forest of Souls Comes to Tacoma," Tacoma WA, Dec. 14th
2009 The Ink, Las Cruces, NM, July
2009 The Herald, Truth or Consequences, NM, June 17th
2006 Art and Technology, Microsoft Podcast Series, June
2006 Dorkbot, April 25
2006 Seattle Post-Intelligencer, Feb. 20
2006 Lighting Magazine, Cover, May
2004 Three Imaginary Girls, TIG Visual Arts Heartbeat, Seattle, WA, Nov. 2
2001 Tablet Newspaper, "Food for Art", Seattle, WA, Nov. 11
Grants, Awards, Residencies, Rosters
2011 STart Program Artist Roster, Seattle, WA
2010 Installation Honorarium, Spaceworks Tacoma, Tacoma, WA
2010 Artist in Residence, James and Janie Washington Foundation, Seattle, WA
2009 Artist in Residence, Rio Bravo Fine Art, Truth or Consequences, NM
2008 Installation Honorarium, STart Program, Seattle, WA
2006 Artist Funds Award, Consolidated Works, Seattle, WA
2005 Educational Scholarship Award, Pilchuck Glass School, Stanwood, WA
2005 Healthy Funding Award, Art Patch, Seattle WA
Public Art and Exhibitions 2001 – Present
Tollefson Plaza, Tacoma, WA
Sound Transit Public Art Program, Seattle, WA
Riverbend Rio Grande Pier, Truth or Consequences, NM
Rio Bravo Fine Art Gallery, Truth or Consequences, NM
Consolidated Works Gallery, Seattle, WA
University Friends Meeting House, Seattle, WA
King County Art Patch Gallery, Seattle, WA
Department of Arts & Cultural Affairs, Edmonds, WA
Select Fair, New York, NY
World Wide Art Fair, Los Angeles, CA
Inscape Gallery, Seattle, WA
Capitol Hill Arts Center, Seattle, WA
The Frying Pan Gallery, New York, NY
Twilight Artist Gallery, Seattle, WA
Vain Gallery, Seattle, WA
Pilchuck Glass School, Stanwood, WA
Education
2001 BA, Liberal Arts, The Evergreen State College, Olympia WA
More information about her work can be found below:
http://starrynightprograms.com
http://risehousingeffect.com